And the "bloggers" are to blame for the shut down and near-default, "B. Barry Bamz"? Well, a bit I suppose.
However, no "blogger" that I know of was responsible for
this atrocity
– only "The Most Trusted Name In News" (and how again exactly is Rep. "Puppy-Dog-Eyes-With-The-Shiv" a
winner
?).
All of this misery isn't something that can be categorized as if it were a sporting event, a People Magazine poll, or some damn awards show.
Real
people suffered
real
pain – nobody "won" or "lost"…
…and leave it to Sen. Elizabeth Warren to come up with a pitch-perfect response
here
, something akin to what she said below when this ridiculous mess began…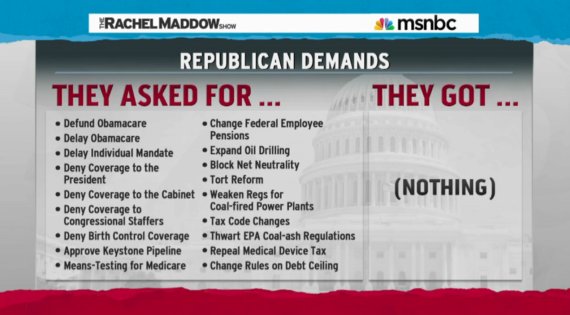 ...and by the way, more like this...
...though some stuff
did
get done during the shut down (and it looks like MSNBC, with their whiz-bang new site, somehow totally hosed the ability to size these videos and allow volume control also)...
…and here's another tune with an allusion to our fortunes-ever-dwindling professional hockey team.