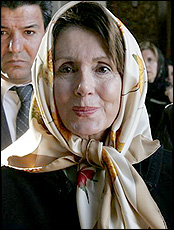 Apparently, they are, unbelievably (
this column
appeared today – I didn't pay much attention to the absurdity of
the Prius vs. Hummer column
because I was too preoccupied with the following)…
Pelosi was nuts to visit with Assad
By Claudia Rosett

In visiting Syria this week, House Speaker Nancy Pelosi no doubt meant well. She wants dialogue. As a woman, mother, and now the third-highest-ranking elected official in American politics, she has achieved a great deal in life by talking with people. On this trip she made a point of showing how easy it is to interact with Syrians, with an itinerary that included a visit to a souk in Damascus - where she was photographed holding out her hand while a cheerful vendor gave her some nuts.
Is it my imagination, or is this an incredibly patronizing way to begin a column about what is in essence a diplomatic visit overseas by this country's first female U.S. House speaker necessitated by the fact that our delusional, narcissistic president refuses to even discuss the Middle East with a "bad guy"?
Well, at least Rosett doesn't attack Pelosi over the whole "headdress" thing (as noted
here,
via Atrios).
Rosett's only goal here is to portray the manner in which she thinks Pelosi is going to get "played" by Assad, which is a tactic typical of freeper propaganda (hence the "nuts" imagery and construction). And the Inquirer dutifully played along of course, with the speaker photographed on the top fold of the front page under the headline, "Pelosi's Controversial Visit To Syria."
Unfortunately, that photo-op sums up the best that can be said about Pelosi's trip: Nuts.
How does Rosett know this? Did Pelosi brief her personally? Does Rosett know that Pelosi told President Assad of Syria that she and Congress are committed to working with Dubya against terrorism and that Syria should stay out of Iraq (or at least that is what was reported
here
)?
Also, the three leading Repug presidential candidates should stop yapping at Pelosi unless they have any better ideas, aside from the typical Repug "stay the course" boilerplate that has accomplished absolutely nothing except to make things worse (Michael Bloomberg of New York criticized Pelosi as well, but at least he was fair enough to criticize the other Repugs who went to Syria also, part of what is noted by Kagro X of The Daily Kos
here
).
Having done her shopping, Pelosi went on, against the express wishes of the White House, to talk with President Bashar Assad. Perched on pillowed armchairs, chatting away, they provided yet another photo-op - a tableau implying that Assad is no monster, but in many ways a reasonable fellow, just like the rest of us. Pelosi emerged to announce that she had expressed her concerns on various fronts and that Assad is now willing to hold peace talks with Israel.
"Concerns on various fronts," huh? What journalism school did Rosett graduate from again? That was about as clear as mud (and if there's something Dubya and his supporters know about, it's photo ops, of course).
This is not just nutty politics; it is dangerous. For Pelosi, this may count as interaction. But for Assad's regime in Syria, this amounts to chumps on pilgrimage. Damascus is infested by a dynastic tyranny in which "dialogue" serves chiefly as cover for duplicity and terror. These traits are not simply regrettable habits that Assad might be charmed out of. They are big business and prime instruments of power.

The long litany of Syrian depredations includes the long and brutal occupation of Lebanon, Syrian involvement in the brazen car-bombing assassination two years ago of former Lebanese Prime Minister Rafik al- Hariri, and likely Syrian involvement in the continuing series of murders of Lebanese reformers. Syria has been a highway for Hezbollah terrorists trucking weapons from Iran into Lebanon, leading to the war launched by Hezbollah last summer against Israel. Syria provides safety and support for the terrorists of Hamas. Since the fall of Saddam Hussein, Syria has become a conduit of terrorists inflicting mayhem and murder in Iraq.
Oh, and as we know, Syria is the only country that has ever involved itself in Lebanon,
right?
And though Rosett is quite probably correct about Syria's involvement in the Hariri murder, I don't recall that Hezbollah started the war with Israel last year, but it was Israel by retaliating for the capture of its soldiers (further, as The Existentialist Cowboy points out
here,
Israel's soldiers were captured
inside Lebanon,
which doesn't make it a kidnapping at all of course). Try considering all of this the next time someone declares that Hezbollah started the war.
I'm not saying that any one country in that region is perfect. I'm just saying that they all share guilt, though perhaps disproportionately, and should acknowledge it, that's all.
The real trademarks of Assad's regime are neither the mosques nor the souks (where vendors, when not posing for photo-ops, will on occasion fearfully confide their unhappiness over Assad's repressive policies).
Wow, what great attribution! Yes, I know those people live under the threat of imminent peril, but Rosett could have ID'd these people just a bit better, don't you think?
The more telling places - which dignitaries such as Pelosi do not get to visit - are institutions such as Syria's Tadmur Prison, a place that Amnesty International has described as "synonymous with brutality, despair and dehumanization." Among the inmates who land there are political dissidents who have defied a regime that for Assad is effectively a lifetime family business.

As with any severely repressive regime, details are hard to come by.
Yep, that's the case with
Guantanamo also,
I would say.
The best window we have had came via the 2003 overthrow of Saddam Hussein's regime, which brought to light a trove of secret documents showing the extent to which Syria's regime was involved in dirty arms deals and illicit finance. The CIA's chief weapons inspector, Charles Duelfer, in some much-overlooked sections of his famous 2004 report described "high-ranking Syrian government officials" - including members of the Assad clan - heading some of the main Syrian trading companies that helped Saddam clandestinely order military equipment from places such as Belarus, Ukraine and Russia, and negotiate for missiles from North Korea. These, not that smiling nut vendor in the souk, are the Syrians who call the shots.
Puh-leeze...
At this point, after reading these fantastic charges that I'm not going to bother to research, I'm going to take a minute and point out that
the Foundation for the Defense of Democracies
(the group Rosett represents) is a noted freeper think tank that formed after 9/11 (and, as George Carlin might observe, why is it that people from "think tanks" sound like they don't think at all?). It is run by Clifford May, who regularly inflicts his self-righteous winger blather on readers of the Bucks County Courier Times.
(However, I will point out that the Duelfer 2004 report stated that we were
so emphatically wrong
about Iraq and its alleged WMD capability that I don't see where it could be used to support a claim regarding any other charge we could make about alleged rogue states in that area of the world.)
Given all this, I don't see also why we should take Rosett seriously in the end. Yes, Assad is a truly bad actor who we need to watch, but Rosett and the FDD would just love to scare us all with visions of some worldwide WMD-sounding conspiracy to give us an old-fashioned case of the willies to the point where we all wet the bed at night and pledge our undying loyalty to Great White Father Dubya.
But of course, those days are over, and not a minute too soon. And it would have been nice if the Inquirer had mentioned that the FDD is a group of reactionary freepers, but as I've said before, they always identify liberal groups but never conservative ones.
Dignifying Assad with visits, chats and photo-ops is bad policy, whether it comes from America's top Democrat, from Republican congressmen, or from the White House itself. Assad runs the kind of government for which the phrase "regime change" was invented - and however unfashionable that phrase has now become, it is still the only true path to peace in Damascus.
Oh…that's TOO FUNNY! Rosett sneaks in at the end the mention of "Republican congressmen," who visited Syria also, but Pelosi is the only one guilty of "nutty politics."
It is to laugh (and as always, Repug-simpatico chickenhawks cry out for others to fight and die in wars that they, and only they, want to see fought in the first place).
And by the way, on the subject of non-identification of special interest groups in the Inquirer, the paper ran a full-page ad in the "Nation and World" section yesterday from a group identified as "phrma.org" telling senior citizens not the change the horrendous Medicare Part D drug "benefit."
The group is, in actuality,
the Pharmaceutical Research and Manufacturers of America,
a very powerful drug industry trade group run by former Repug House Rep Billy Tauzin that would like very much to keep Medicare Part D in place as is, if for no other reason than it would prevent the possibility of seniors negotiating for lower drug prices and thus cutting into Big Pharma's already egregiously obscene profits.
So, it looks like both the Inky and Claudia Rosett have disclosure issues they should identify and resolve if they truly want to be taken seriously.
Update 4/5/07:
What Atrios sez
(and that goes for
Matt "A Lot Of People" Lauer
also).